1. Where have you traveled and what is the furthest you've been from home
My career allowed me to travel coast to coast in the United States and Canada. I've also traveled outside of North America: Europe, The
Caribbean, Central America, and The Pacific Islands. I think Istanbul Turkey is the furthest that I've been from home.
Istanbul, Turkey
2. Is there a location other than where you are, that you think would be a nice place to live?
If cost was not a factor I would have several homes. A summer home in Camden, Maine, a winter home on the coast in Florida (possibly Key West), and a vacation home in Santorini, Greece.
3. Do you have a photo or story from a favorite place to visit?
I love Architecture; Key West, Florida is home to one of the largest collections of intact 18th century homes. The Key West historic district, with quaint tree lined lanes and stately mansions, is a national treasure to be savored.
There are many other reasons why I love Key West; the tropical setting, the gardens, the locals, the artsy feel of the community, the seafood, etc...etc...! Too many to list. I Love Key West!
Key West, Florida
4. What dream destination do you have tucked away in your heart? Do you think you'll be able to visit them one day or are plans in the making?
I've always wanted to visit the Grand Hotel on Mackinaw Island in Michigan. When I was young I lived outside of Chicago and the Grand Hotel was a vacation destination within driving distance. But we never traveled there as a family and after College I never returned to the Midwest. Someday I will get there.....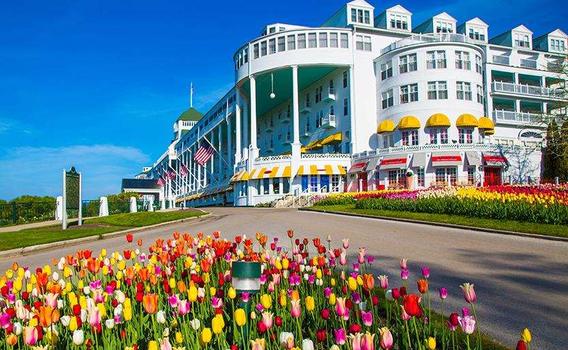 The Grand Hotel
Cheers!
Lori in Blue Ridge, GA