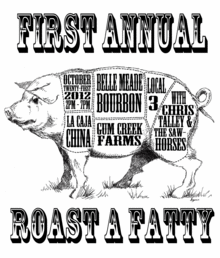 Last Sunday we were invited to a good old fashioned pig roast at our favorite place ITP (inside the perimeter) -

Local Three

.

We spent the afternoon out on the patio at the first annual "Roast a Fatty" pig pickin' party. Chefs Hall and Muss spent the morning slow roasting a home-grown hog from Gum Creek Farms south of Atlanta.

They used a roaster that I've never seen before, the

La Caja China Roasting Box

.

The aromas coming out of that box were delectable and the unveiling of the finished fatty was quite a spectacle.

Camera flashes, oohs and awes, and a crowd of hungry guests awaiting the first taste of the pork goodness.
The Local Three staff whipped up some of the delicious sides they are known for and special guest Charles Nelson of

Nelson's Greenbriar Distillery

brought down a load of his smooth Bellemeade Bourbon; they use an old family recipe that was developed during

prohibition

in the '20s. It was so....good! If you like Bourbon, you must try this one! Kevin (our favorite barkeep) kept the crowd happy with his crowd pleasing bourbon concoctions.
We met some great folks, David and Claire who were seated at our table. David took the pictures in this post because I forgot my camera…again. Hope to see them again at another Local Three event.
And to top it all off, we got commemorative "Roast a Fatty" T-shirts ….love the back of the shirt…see the design below.

We'll see y'all out on the patio again real soon…Cheers!